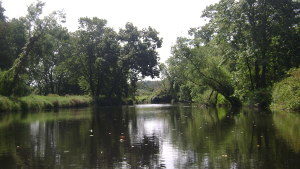 In my family, the 4th of July is big enough to imbue much of June with a Christmas-like anticipation. There are even a few days post-4th with same lazy quality as December 26th. Then the rest of the summer lasts for five hellish eternities, eternities as tortured as though they were all spent drinking weak, acidic coffee and listening to that noise the baby from Eraserhead makes. The vicious heat of July stretches into August, and from August to infinity, or so it feels to my heat-addled brain. Even as a kid, my hatred of the endless heat outweighed my hatred of school, and I would wish for September to start. It may not be so hot that I can't sleep, but it's still hot enough for the middle part of the day to be an unacceptable, activity-preventing haze. And there are no redeeming holidays.
The only official August holiday I can think of is VJ Day—Victory over Japan Day—and Rhode Island is the only state that still celebrates it. I grew up in Rhode Island, and I don't think too many people there want to give up a Monday off from work, even while acknowledging that VJ day is creepy and outdated. And even in Rhode Island, VJ day doesn't do very much to improve August.
Then there's Lughnasadh. Celebrating the start of the harvest season and honoring the Celtic god Lugh, Lughnasadh is one of eight neo-pagan high days. Celebrations usually involve competitive games. In a group where the attendees tend towards bookishness, this can involve things like thumb wrestling and rock, paper, scissors, rather than races and feats of strength. Voice of experience. While it's a fun holiday, and a great excuse to celebrate seasonal foods, it is ultimately a religious holiday. So I don't think it's going to get the widespread adoption that a Big August Holiday needs.
There is a an enormous roster of made-up* holidays out there, and I think one of them must qualify. Some of them are too specific, or dedicated to foods I don't like. I'm looking for something that can justify a day off of work, a cook-out, and possibly some activities. After doing some reading (mainly here and here), these are my top candidates.
Sister's Day
I am a sister. Not a nun, just to clarify, but a female with siblings. This is a self-serving choice, but not one that would do anything for me, since I can't even imagine my brothers showering me with presents and grilled meat on Sister's Day. Plus, it would probably suffer from the same food-gendering as Mother's Day. Dads are supposed to get steak, while Mom wants breakfast in bed and quiche? Who thought of that one? What about steak in bed?
Senior Citizens Day
Acknowledging Senior Citizens, giving them a pat on the back and a steak, and congratulating them for having gone through decades of shit is not a bad idea. Better than pretending they don't exist. This is also a self-serving choice. It will take decades to pay off, if I live that long, but I will gladly contribute to creating hoopla around Senior Citizens Day if it means that, thirty-six years from now, the youth will prostrate themselves before my throne (ok, it's a recliner. With a heated blanket) and shower me with gifts they picked up an hour ago.
Left-handers Day
Banks will switch their pens on chains to the left side. Even if banks also decide to close for this auspicious day, they will still do it. Activities could include left-handed games. Like, instead of going out to play normal badminton, everyone plays left-handed. And those of us who are left-handed or ambidextrous defeat them easily. It will get old very quickly for the right-handed folk.
National Aviation Day
I saved the best for last. This is already a federal obversance, and this year it's on Tuesday, August 19th. I'm not sure if it's always the same day, or if it moves around based on the full moon or day of the week or airline schedules. According to timeanddate.com, here's what people do on National Aviation Day:
On this day, some schools organize for students to participate in classroom activities that focus on the topic of aviation. Activities include: discussing aviation history, including the efforts of the Wright brothers, Amelia Earhart and other aviation pioneers; and engaging in interactive tasks about airplanes and other means of flight transport, as well as careers associated with the aviation industry. Aviation enthusiasts and students may visit museums about aviation history and technology.  Some people visit the Wright Brothers National Memorial in North Carolina at this time of the year.
That sounds mildly interesting to me, but not if I'm going to do it every year. First, there needs to be a cookout with aviation related activities. Kites, paper planes, and toy rockets can all be brought out to celebrate this day. Maybe a historical storytime for the kids. Of course, there will need to be more movies. Christmas and Halloween have tons of movies. Thanksgiving has a few. Even Independence Day has one. We need to have a movie like It's a Wonderful life, only about Amelia Earhart, a movie that we can expect to see on TV to every National Aviation Day's Eve
The point is, National Aviation Day is the most ripe with possibilities for celebration. And even if you don't do a damn thing besides have a meal with family, if any of that family had to fly in from afar, you've participated.
---
*recently made-up, that is. When someone says something is a made-up holiday, what they really mean is that some person invented it rather recently, instead of a government or religion inventing it quite a long time ago. All holidays are made up, even Christmas, which was designed by a committee including Jesus and Santa.