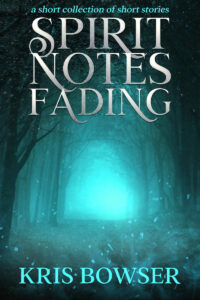 Spirit Notes Fading is a short collection of short stories available on Amazon and Barnes and Noble, and a number of other online retailers, which you can check out through the Universal Book Link.
Banshee (available to read for free onsite)
A punk band struggles to save their show when it's upstaged by the wail of a real banshee.
Seventh String
A tired wanderer fights his impulse to run when he is hunted down with a magic photograph.
Two Wayfarers
Across impassable seas and beyond lonely cities, two wayfarers journey across a vast continent.
Abyssopelagia
An ocean-sick miner steals a submersible to escape from the oppressive priest caste of a deep-ocean settlement.
Four short fantasy stories take eerie journeys through magic, music, and far-off places.
If you're interesting in receiving updates about any upcoming books, feel free to sign up for my newsletter. Spirit Notes Fading is included as a bonus upon sign-up.