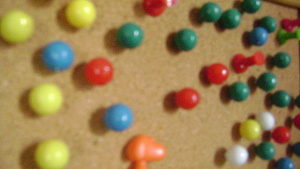 Setting goals always involves a strategic game of self-manipulation. This is difficult to do, since I know I'm doing it, and I can predict my every move and counter-move.
I have a bad history with setting writing goals. While I've participated in National Novel Writing Month for seven Novembers in a row, and reached 50,000 words for six of them, I never seem to do well with writing goals outside of NaNoWrimo. What happens is that I fall short of my goal, get depressed, set a smaller goal for next time, fall short of that goal also, get depressed, and then repeat the whole cycle until I'm at the point where I'm telling myself, "This'll be a good writing month if I can just get a period at the end of that sentence I wrote a couple months back."
July is Camp NaNoWriMo, the free and loose version of the main event in November. On the website, I set my goal as 60,000 words for this month. A goal, as it happens, that I had no intention of actually reaching. If I set 30,000 words as my actual goal, I would likely fail and only reach 14,000. Then get depressed, and shoot for 7,000 next time. See above. So this month, I aimed for 60,000 words, hoping to fail and land at 30,000 instead. Until now, I had even managed to trick myself into thinking this was my actual goal. I had charts and lists to show how much work I would need to do in a day to reach my false goal, and so I believed it was real. Like the Velveteen rabbit. Or not. Pinocchio? Lt. Commander Data?
Anyway, my goal of 60,000 words was alive to me. I believed in it.
That's the kind of mental chicanery I need to pull with my pessimist's brain.
Orange Marshmallow Apocalypse is my novel-in-progress about outcast middle schoolers trying to stop the bizarre and devastating effects of a nuclear bomb detonated in upstate new york, in an alternate world where said detonation is activated by magic. Right now, it's a little shy of 40,000 words, 10,000 of which I wrote this month. I'm still wrestling with how I want them to find out that they may be able to reverse some of the magical effects of the detonation, though not the most tragic ones.
I'm also working on a children's story about a girl who helps a trio of goblins save Halloween. This one is going better at the moment, although I know I'm going to be way off my word count. I have to choose between a smaller, simpler story that fits the picture book model I agreed on with my friend, the illustrator, or a larger, spookier, awesomer story that will probably be twice as long.
Camp NaNoWriMo has eight more days, counting today. I have 13,000 words left to fail at my official goal by 29,998 words but meet my actual goal, which I am pretending is not my goal.