When I was a toddler, my parents gave me some keys to play with, and I made them into a typeface. That part happened 30 years later. After posting Who are you? Answer in three typefaces. a couple weeks ago, I decided to go rooting around on my hard drive, and find the images.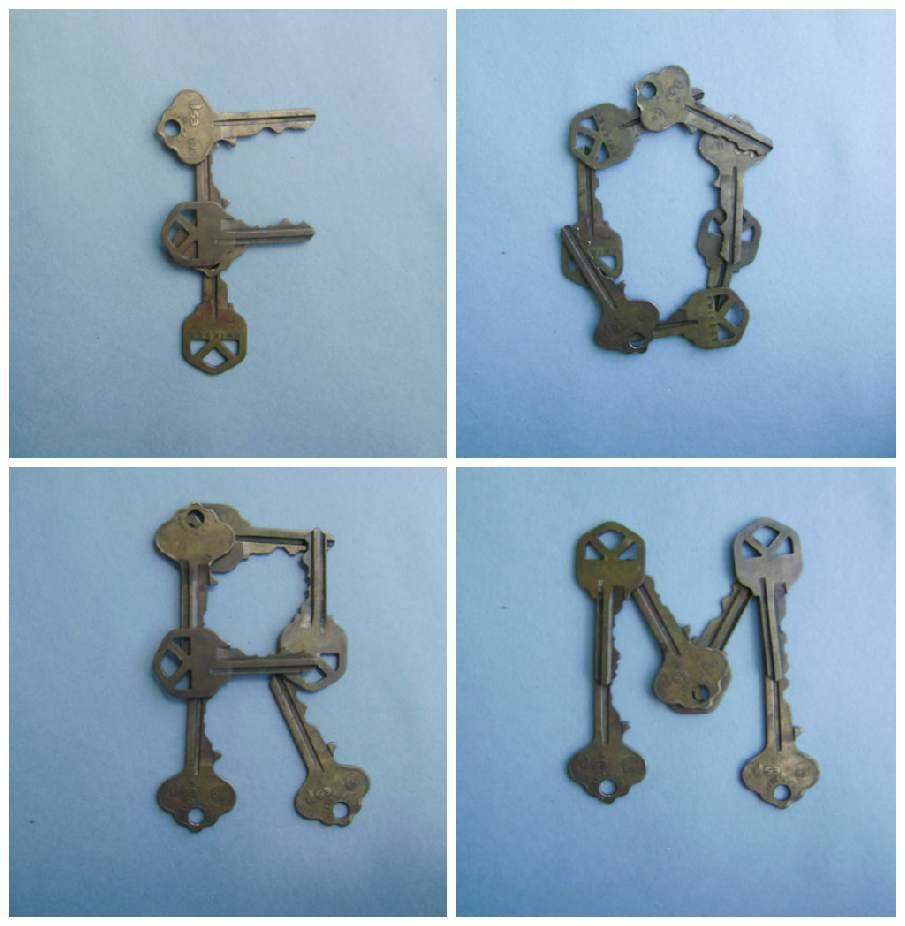 I've always loved keys. When I was a kid, I used to find old keys around my grandma's house. I assumed that if I looked hard enough, I would find what they opened and obtain either a secret diary from a forgotten relative, some sort of magic box like The Indian in the Cupboard, or ACTUAL TREASURE. A key without a lock always seemed to have infinite possibilities, until I grew up and realized that they all went to boring things like toolboxes and dilapidated sheds.
The keys my parents gave me lived in hiding for decades.
Amongst the many pieces of hand-me-down furniture in my first apartment was the well-squashed beige loveseat that my brothers and I climbed and jumped on as small children. My parents had planned to throw it out almost ten years earlier, and had moved it out to the garage when they were delivered a new loveseat that we have all since forgotten* because it was a boring usurper of childhood joy. I was fifteen at this point, and performed one of the most revolutionary acts of my life thusfar: I slept on the couch in the garage for several nights as an act of protest. I shielded the couch with my own body. You know, in case the trash pickup happened by surprise in the middle of the night.
I won. We moved the couch to my bedroom, which was great because then I had a shorter, squishier, less supportive alternative to my actual bed.
Figure that I was a toddler in the late 80s, and that we moved from one house to another–in a different state–in the early 90s. Figure that the couch escaped its death in the early 2000s, which involved a move into the garage and then another move to a second floor bedroom. Figure that it crossed state lines once again, down one flight of stairs and up two, into my first apartment. Figure that it finally met its end at the bottom of those two flights with an ignominious "Free Couch" sign on the side of the road after the springs popped out to the extent that we're legitimately lucky no one had an artery-severing gash.
Figure that the set of keys my parents gave me as a toddler hung in the bowels of the couch for 25 years, across multiple state lines, up and down all manner of stairs.
I can't throw out something like that, especially not when there's still a tiny part of my brain, the part that writes fiction, which still believes the keys might open up boxes containing the truth about my secret sibling whom my parents never told me about**. I tacked them up on my bulletin board as a sort of totem. When I got Creative Workshop for my birthday, and found that one of the creative exercises was to make your own typeface out of household objects, I barely spent any time at all overthinking my options: I went for the key ring.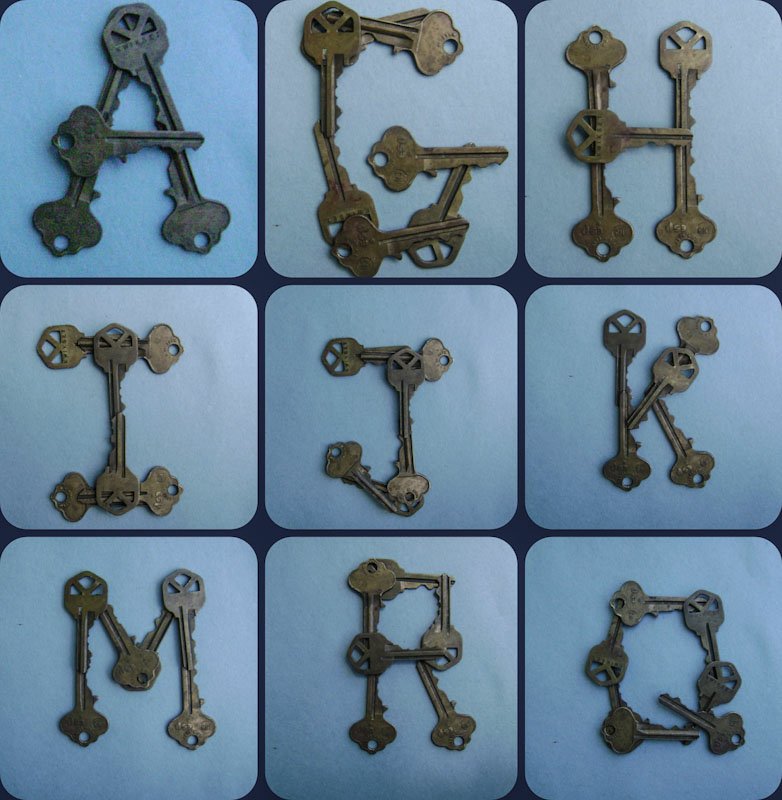 I like how my typeface turned out, and I might even vectorize a handful of the letters. But what I thought was really cool was that, around 30 years after my parents gave me the keys to play with, I finally did.
Like all parents, I'm sure they had been hoping all along that I would be a typography prodigy.
---
*I mean, my parents paid for it, so they might remember. And I can't look inside my brothers' heads. And actually, my mental image of it is starting to come clearer as I write this, and I think it was some kind of leather or leather-like material since it was the early aughts and that's what everyone was down with back then. But I stand by my words.