Fontjoy is my version of looking at cat pictures online. It uses a neural net to create font pairings.
When I was a toddler, my parents gave me some keys to play with, and I made them into a typeface. That part happened 30 years later. After posting Who are you? Answer in three typefaces. a couple weeks ago, I decided to go rooting around on my hard drive, and find the images.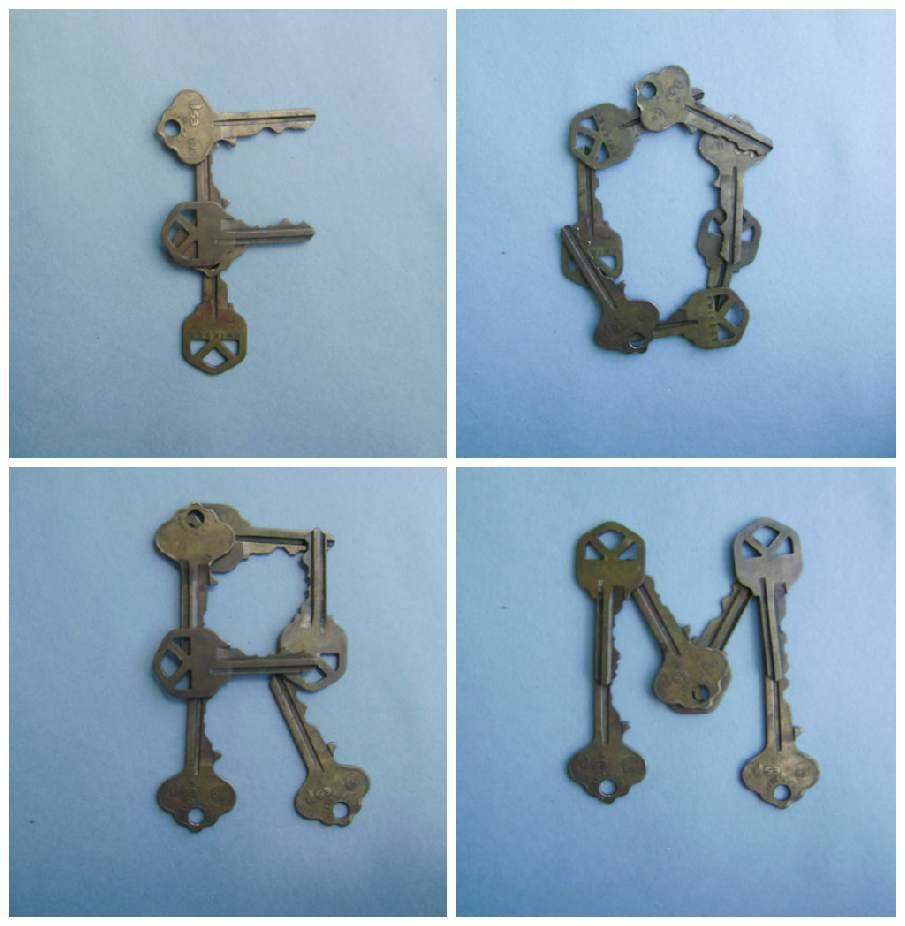 I've always loved keys. When I was a kid, I used to find old keys around my grandma's house. I assumed that if I looked hard enough, I would find what they opened and obtain either a secret diary from a forgotten relative, some sort of magic box like The Indian in the Cupboard, or ACTUAL TREASURE. A key without a lock always seemed to have infinite possibilities, until I grew up and realized that they all went to boring things like toolboxes and dilapidated sheds.
The keys my parents gave me lived in hiding for decades.
Amongst the many pieces of hand-me-down furniture in my first apartment was the well-squashed beige loveseat that my brothers and I climbed and jumped on as small children. My parents had planned to throw it out almost ten years earlier, and had moved it out to the garage when they were delivered a new loveseat that we have all since forgotten* because it was a boring usurper of childhood joy. I was fifteen at this point, and performed one of the most revolutionary acts of my life thusfar: I slept on the couch in the garage for several nights as an act of protest. I shielded the couch with my own body. You know, in case the trash pickup happened by surprise in the middle of the night.
I won. We moved the couch to my bedroom, which was great because then I had a shorter, squishier, less supportive alternative to my actual bed.
Figure that I was a toddler in the late 80s, and that we moved from one house to another–in a different state–in the early 90s. Figure that the couch escaped its death in the early 2000s, which involved a move into the garage and then another move to a second floor bedroom. Figure that it crossed state lines once again, down one flight of stairs and up two, into my first apartment. Figure that it finally met its end at the bottom of those two flights with an ignominious "Free Couch" sign on the side of the road after the springs popped out to the extent that we're legitimately lucky no one had an artery-severing gash.
Figure that the set of keys my parents gave me as a toddler hung in the bowels of the couch for 25 years, across multiple state lines, up and down all manner of stairs.
I can't throw out something like that, especially not when there's still a tiny part of my brain, the part that writes fiction, which still believes the keys might open up boxes containing the truth about my secret sibling whom my parents never told me about**. I tacked them up on my bulletin board as a sort of totem. When I got Creative Workshop for my birthday, and found that one of the creative exercises was to make your own typeface out of household objects, I barely spent any time at all overthinking my options: I went for the key ring.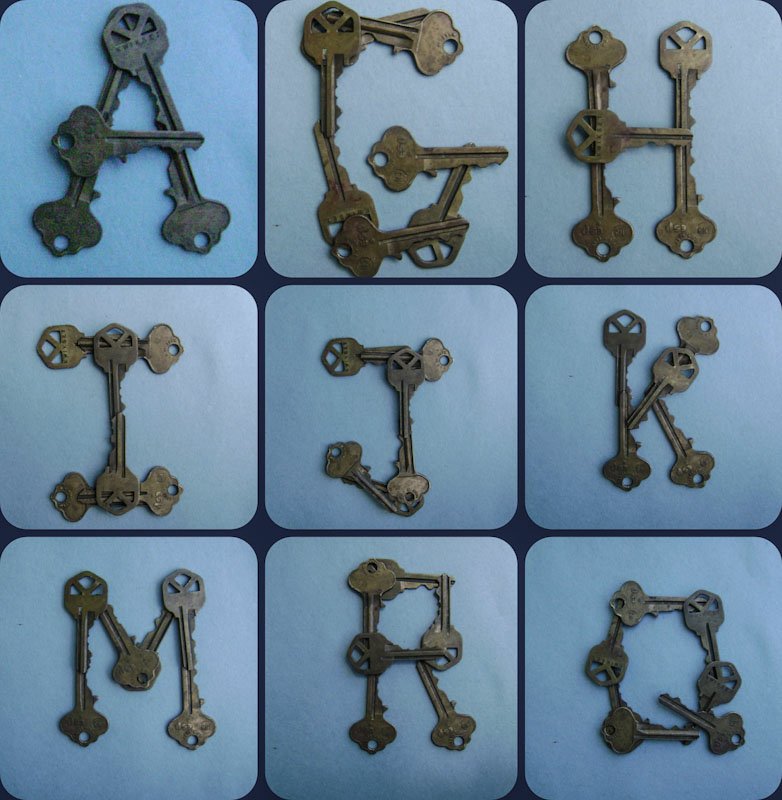 I like how my typeface turned out, and I might even vectorize a handful of the letters. But what I thought was really cool was that, around 30 years after my parents gave me the keys to play with, I finally did.
Like all parents, I'm sure they had been hoping all along that I would be a typography prodigy.
---
*I mean, my parents paid for it, so they might remember. And I can't look inside my brothers' heads. And actually, my mental image of it is starting to come clearer as I write this, and I think it was some kind of leather or leather-like material since it was the early aughts and that's what everyone was down with back then. But I stand by my words.
Every once in awhile, a friend or acquaintance will read a bunch of my posts and say, "Hey, I was stalking your blog." I always thought this was strange because my blog is public. If I didn't want people to read it, it would be on my hard drive, not the internet. Then I started to wonder if the feeling that they were "stalking" my blog came from the design.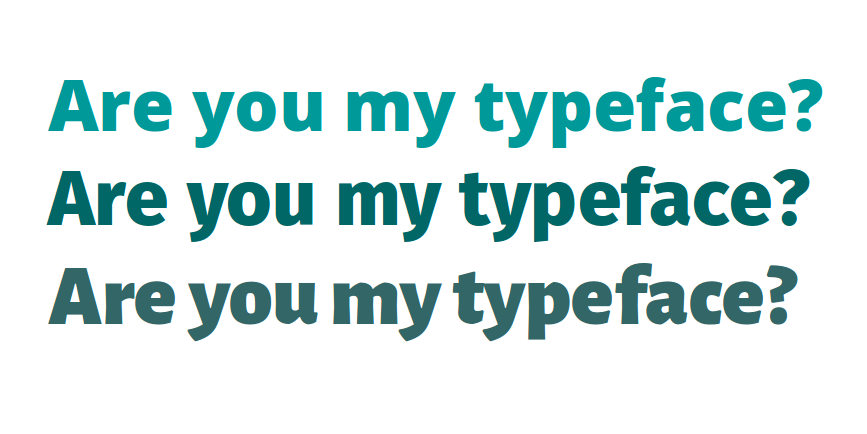 Instead of a design that says, "Hey, this is someone's personal blog. Maybe they don't totally realize this is online and anyone can read it?" I would like a design that says, "This is the website of a speculative fiction author and freelancer, and you can read what they have to say about some stuff." These roles, along with enjoyment of blogging and web design, are why I have this website. Yet, it doesn't do a good job of expressing them, for good reasons as well as bad ones.

Hint: they're the same reasons. They boil down to the fact that, although I've been designing website for 20 years, I didn't design this site myself because I needed to avoid waffling. And maybe even waffles.

What's wrong with the current design? In some respects, not much. It's readable, for sure, and with the exception of the subheadings, (H2, H3, H4, etc) I like the typography. I even like the "Bleached Landscape" color scheme, which I picked in defiance of my own attitude that if something isn't dark-colored, it's deeply uncool.
However, the design is also decidedly personal blog-like. It also has a slightly dated look to it, which honestly, is part of the reason I picked it. It reminds me of a nicely- designed Livejournal with some cool details. There's nothing actually wrong with it because I don't consider not following current trends to be a wrong. What matters is that it doesn't match my current aesthetic well enough, and I didn't design it myself (aside from some tweaks over the years, such as the background from the cover of Spirit Notes Fading).
There are plenty of pre-made WordPress themes I could choose from to change the blog vibe to something more professional, if that's what I wanted to do. But since web and graphic design are two of the areas I do freelance work in, it would be preferable to have a website of my own design. And since I'm also a speculative fiction writer, that is something I would also like the design to express.
One question I've been wrestling with: to what extent do I want to adopt the common tokens of author websites, such as typewriter-style headings and bookish body text? Do I need to bludgeon visitors over the head with my absolute writerly-ness, when everyone else who has a blog is also a writer? Many fiction authors' websites appear designed to convey that they aren't just some blogger, but a real writer. A writer's writer.
As far as I'm concerned, typography is the second step of a web or graphic design project, after brainstorming. I always aim to make the typography and layout do as much of the heavy lifting as possible before I start adding color or anything else that isn't absolutely crucial. And that's where I am now. It's a bit of a background project at the moment, but since I look at typography the way other people look at cat pictures, it's been on my mind.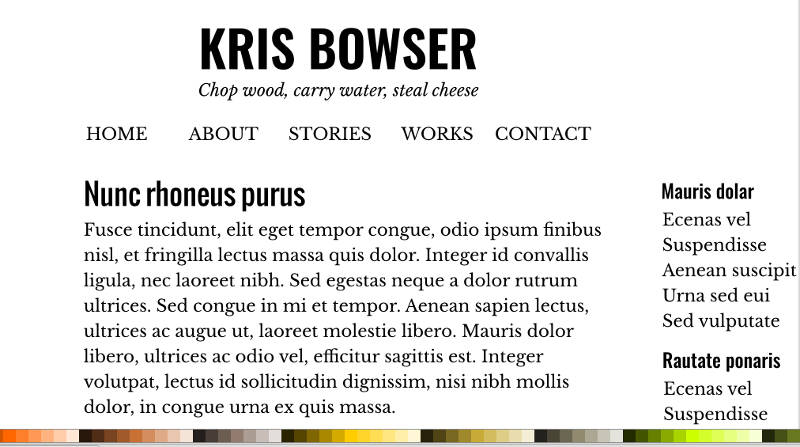 You only get three typefaces per project. At least, that's the conventional wisdom. It's the "Show don't tell" of graphic design. Like any common and seemingly wise platitude, you can find a number of places where people break the rule, for good reasons and bad. I won't be breaking the rule in the redesign because the rule will serve my purposes.

My three typefaces can say any number of things, on their own or in combination, by their sizes, spacing, positioning, coloring, bolding, italicizing, proselytizing, and jazzercising. Will they convey a mood that is academic, provocative, sarcastic, persuasive, informative, intellectual, surreal, silly, serious, dark, weird, perfectionist, or diy-to-a-fault?

Furthermore, am I correct in thinking I'm the things I think I am? And even if I am those things, do I want to express them in an on-the-nose sort of way, or do I want to put a twist on them? And in any case, how many of these things can even be expressed through typography?

And that's the story of how typography can pave the path right into an existential swamp of anxiety.