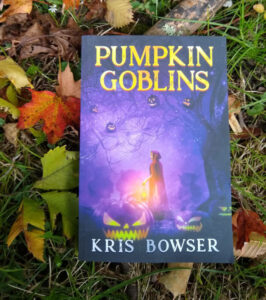 Yup, that finally happened!
And I took a a picture of it in damp leaves. For proof. Because I don't know, maybe you wouldn't believe me?
(For the record, no books were harmed in the making of this blog post.)
Finally getting the print copy up was the impetus for relaunching the book last year, but it was the only part of the relaunch I didn't get to–and this despite the fact that I had the files an inch from ready the first time around.
The response to this has been awesome–I'm not alone in my old school preference for print! (Even though I've definitely been enjoying my Kobo Clara the last few months!)

But even better than people buying the print copy? Reading it to my four-year-old. This started as a mandatory chapter per night before I went on to read Little Blue Truck or Phoebe and Her Unicorn (which is a much more awesome comic strip than you'd think from the name!), but it's now turned into something she looks forward to, and she's been asking a ton of great questions.
Anyway, you can grab a copy of the paperback here.