Laments about how short summer is are a common thing at this time of year. Hitting the beginning of August means that this dreadful time of year only lasts for another month. Lucky for us, the actual equinox doesn't get a damn say in this. Summer ends when the mustard-stained labor day paper goods are thrown in the trash, and we all know it. There also seems to be some sort of summer-guilt brought on by not doing enough summery things. I don't have the emotion of summer-guilt, but I can understand because that's how I feel about fall.
No one needs to experience summer-guilt at all. As it turns out, a large number of common summer activities are superior in cold weather.
Running and hiking
Running in the summer, I am one with my environment, in the sense that my environment is a foul terrarium of pervasive humidity, and I am a sticky, sweaty humidity-wraith. No skin, no bones, only sweat and unhappiness.
Running in the winter, I am alive and joyful. Pushing myself through exhilarating cold, muscles pumping, the cold is manageable as long as I don't stop. Plus, no one thinks you're a badass if you go running in the summer. You're a just a runner. But running in zero degree weather? Viking level badass points.
Hiking is the same deal, with one added benefit. In the summer, the trails fill up with people. Winter scares them off, and you can enjoy nature in all its frigid, austere beauty.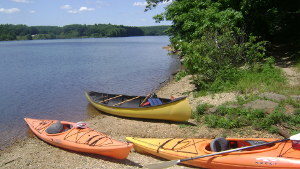 Kayaking
Kayaking is easily one of the top things that makes summer bareable for me. I get the same exhilaration powering through choppy waters that I do running in the snow. Even in the summer. In fall, the waters are calmer. Jet-skiers have given up until next year. Autumn leaves ring the lakes, and reflect off glassy-smooth surfaces. Wood fire smoke fills the air.
Getting married
After physical activity, the worst way to exacerbate the heat is to dress poorly. All formal wear in existence is the epitome of dressing poorly for summer. Most people want their friends and family to be happy for them on their wedding day, not resentful of their life choices because of easily avoided discomfort.
Years ago, I went to a December wedding. The couple played Christmas music at the reception. Cupcakes with mountains of snowy white frosting were topped with candy snowflakes. The bride wore a hooded wedding cape over her dress. How cool is that? And it could never happen in the summer.
Wearing white
It's not just at weddings. Wearing white, in general, is a lot cooler looking in the winter. This is coming from someone who hates to wear white. Imperious ice queens. The white witch. Princess Leia on Hoth. Actually, all I can think of here are female royals. But no one pulls off white like they do.
Star gazing
Ever notice how much clearer the night sky is in winter? Cold air can't retain as much moisture, therefore you don't have to squint up at the stars through a veil of humidity. Perfect clarity.