Between Vaffeldagen, taking care of a flu-stricken toddler, and subsequently becoming a flu-stricken adult, I forgot to brag about passing the 100,000 word mark on my current novel. Although this has been as frustratingly slow as walking behind someone at Walmart, and although I still have probably 25,000 words left to go, I want to mark this moment in my life. That I have been fixing problems in this manuscript for 100,000 words now, even after I might have killed it a couple times, is an accomplishment I'm immensely proud of.
There's a common metaphor of writing a book being like having a baby–you gestate it for months and blah blah blah. But you don't have to make time to be pregnant. You do have to make time to write a book. It's not like you say, "Well, I have a couple hours to be pregnant on Thursday morning," then shoot your fetus some nutrients via umbilical and go get an ultrasound. Pregnancy is only as active as you make it. But if you're writing, you do have to set aside those Thursday mornings and whatever other spare morsels of time you can grab.
Also, once your book is "born," it doesn't then spend the first several months of its life requiring literally every spare minute of your time to hold it and breastfeed it and change it and sooth it down to sleep. Having a baby to take care of is the writing discipline equivalent of someone upending a table. In an episode of the Dear Sugars podcast (I don't remember which one), Cheryl Strayed refers to writing with young children or toddlers as "writing on slow mode." This is what I've been doing.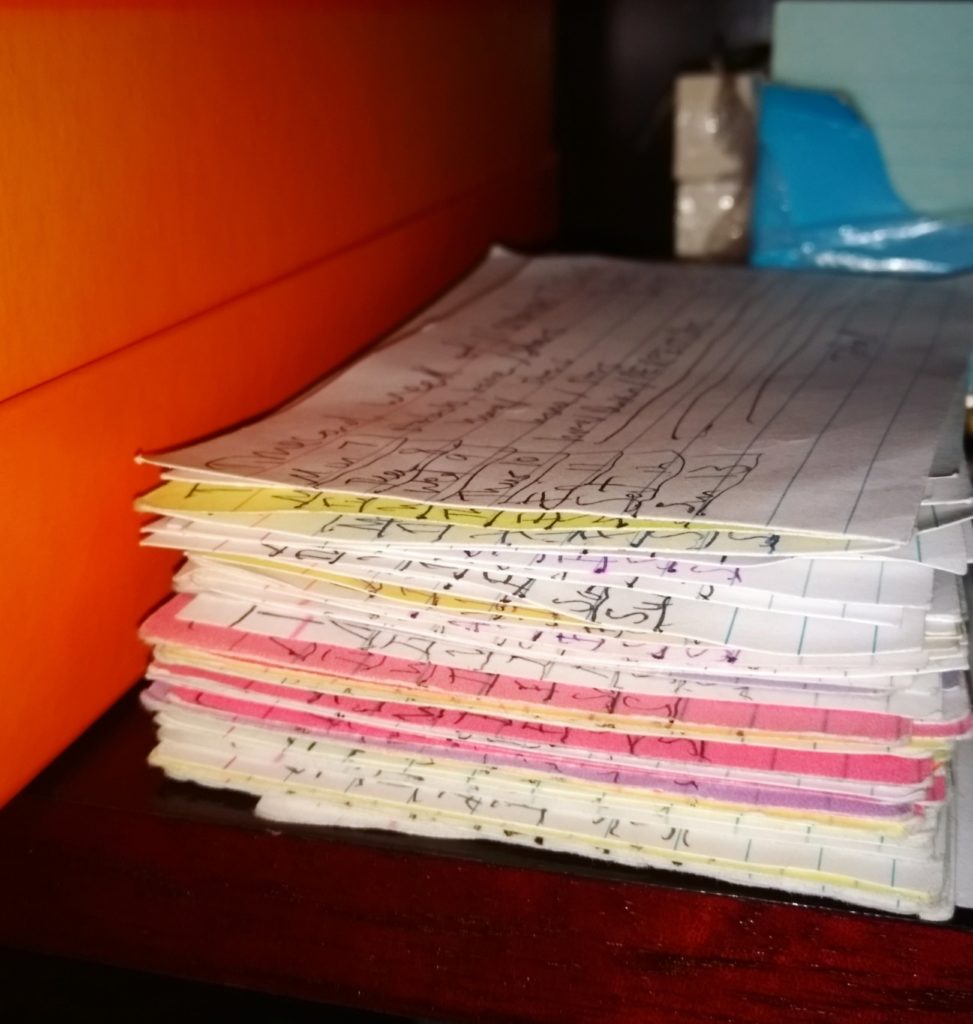 Like the secret stash of candy bars under my desk*, writing has become something I sneak in small bites. I no longer keep obsessive records of every minute I spend writing, because that itself takes too much time.
The novel will probably not be named Stars Fall Out or once I sit down and brainstorm a more fitting one, but it inherited the title from an earlier iteration of the story and from a Simple Minds song:
Even without a toddler, this novel has had a hell of a lot of obstacles.
In fact, I have grown this story from the corpses of two short stories and two unfinished novels. Or five unfinished novels, but they aren't all corpses, depending what happens when they get smacked with the defibrillator of future rewrites.
Here is the strange and cannibalistic writing timeline of Stars Fall Out:
Short story one
Barely more than a scene about a girl jealous of her younger sister and feeling trapped in relationship. Something about a unicorn. Something about stars falling out of the sky. No idea how to end it.
Short story two
One girl, living in a small town in our world, sees another girl sink into some river water, seemingly on purpose, and be snatched under the river water. MYSTERY. Who is the girl? What role will the dance night stoners play? No idea how to end it.
Stars Will Fall Out, first attempt, in 2007
I smash the two short stories into a single novel that I assume will solve the ending problems I was having. Now, the girl being sucked down the river is one and the same as Jealous Girl who feels trapped in her relationship, only now she lives in a secondary world and works at a bakery and uses a magic vial as a means of escape to our world. There is a mad professor of magic. No unicorn.
Abandonment of Stars Will Fall Out in 2008
Smashing the stories together didn't work. I decide I will not be continuing to write my novel because it's a mess, the worldbuilding is godawful**, and Small Town Girl has no business being the main character. But, hey, at least I learned something.
Circus of Thieves, in which I take on worldbuilding
In my 2009 NaNoWriMo novel, I develop a secondary world (Fyaan and Kirosz) living in the realm of steampunk and fantasy, depending what time and place I'm writing in. It's kind of a Moll Flanders type story but with a fake circus and a horned bear and a mystery machine.
The Remnant, a second trip into Fyaan and Kirosz
Five magicians with connected relationships take opposing sides in a war for a variety of reasons. One of them, a disgruntled ex-patriot, sides against her homeland. I write a bit of her backstory one day, and oh! She's River Girl, also known as Jealous Girl, also known as Bakery Girl. I decide that I will go back and write her story in the Fyaan and Kirosz world without any of the stuff about Small Town Girl.
What I don't realize at this point is that my first attempt at Stars, with the ill-fitting main character, was like dipping the story in egg dye. I took away every trace of that character, yet the story is a different color.
Bitter Machines, the reason I am writing Stars Fall Out now
I don't go back to write Bakery Girl's story yet because it's too much work. Instead, in 2012, I write the second book she will appear in. There are spies and powerless royals and imperial occupation and a weird cult, and holy shit, every time I look at the draft I can't believe I wrote it myself. I love it.
Stars Fall Out, second attempt
After a few years thinking that I need to write this story so I can get to Bitter Machines, I sit down and tackle Stars itself and figure out what would make it awesome for me to write. If I'm going to maintain the motivation it takes to write it, it can't just something I'm getting out of the way.
I begin rewriting with new, better worldbuilding and Big Events and empires and some stuff about shadows, but maybe not stuff about stars.
I remove the word "will" from the title, which seems like a big difference at the time.
I take a break to publish Pumpkin Goblins and Spirit Notes Fading in 2016. When I return to Stars, I keep plugging away, but am miserable writing. That's a whole other story. I stop writing for four months that feel like an entire year.
Stars Fall Out, third attempt
At some point, a question pops into my head: "Where do you go when you escape?"
In my rewrite with the bigger and better worldbuilding, I had forgotten what interested me about Bakery Girl in the first place: she has a stolen magic vial, an extremely powerful artifact, and she uses it only to escape her own life.
And so, on slow mode, I return to the story. This time, first and foremost, I'm asking myself where Tyatavar goes when she escapes. It's been less than a year since my most recent start, and I've done most of the work in that time. But it's been almost thirteen years since I wrote Short Story One. Nothing about this process resembles pregnancy.
---
*I guess it's not much of a secret now that I'm posting it on the internet, but it was only a secret before because my partner repeatedly forgets about its existence.
**There was a character named Dwardley Gryphon, and he owned a tavern. This isn't necessarily bad, but it's lazy and default-ish, and more importantly, I didn't love it. Also, the characters wear "timebands" instead of watches because, I dunno, that makes it different?
---
By the way, I decided that her girlfriend is not her mother.