I set out to troubleshoot my perfectionist blogging process and instead discovered the quantum nature of writing. While I enjoy blogging, I have difficulty posting often. My problem is that blogging is something of a struggle for me, in the way that climbing Mount Doom in a state of extreme dehydration with the weight of intense evil around your neck is something of a struggle. I wanted to figure out a way to minimize the struggle, blog faster, and still enjoy myself.
When I started this blog, I assumed that coming up with ideas would be tough. I bought Show Your Work by Austin Kleon and Rise of the Machines by Kristen Lamb, which both discuss coming up with ideas for blog posts. Both books are helpful, both are written in a friendly manner that makes regular blogging seem less intimidating, and both aided me in coming up with post ideas. But post ideas weren't what I needed. Turns out, I have no shortage of ideas: there are over four dozen unfinished posts in the Scrivener project for my blog, and that's not even counting posts still in the idea stage.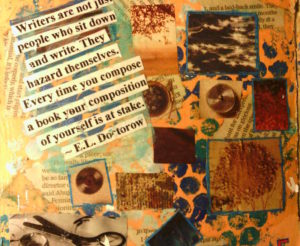 Perfectionism is a constant problem for me, but I'm also capable of writing very fast*. What ends up happening is that I'll get down several hundred words of a blog post in fifteen minutes or so, but then I become mired in doubt while attempting to actually finish it. Or, I might set out to write a quick post about a haircutting youtube video I found helpful, but then I end up writing a treatise on everything I know about haircutting. This is where the Mount Doom analogy comes in. Writers are junkies for analogies about writing. Even that last sentence verged on analogy, because I didn't mean "junkies" in the literal sense.
Blogging requires the opposite of what I've been doing: frequency, speed, and often brevity. If you want your site to have good SEO (search engine optimization), you need to post often. Blogging is fast. A blog post can do the same things any piece of writing can: inform, persuade, entertain, or tell a story. But it can also function as social media, open a dialogue, or pass on something interesting from another site. It's ok to share something (such as the haircutting video) and start a conversation without making a post an exhaustive monument about everything concerning that topic. I read and enjoy plenty of blogs that do this, and many blog posts tend to be shortish. I do read some blogs with posts regularly going over 1000 (and maybe even 2000 words), but I aim to write 300-700 words because that's the length I enjoy reading most. It's short enough to be a quick read, but long enough to expand upon a topic.
I've tried a lot of strategies to finish blog posts faster. Timeboxing was one, and I made a flowchart last year to accompany my brand new timeboxed blogging method. After spending an unnecessary amount of time choosing color schemes and type faces for this flowchart, and in the process re-encountering my old nemesis Procrastination (he has a twirly mustache and a fencing sword and a velvet cape as dark as his evil deeds), I ended up failing to use my timeboxes for more than a few weeks. Timeboxing works great for brainstorming and editing, or anything else that doesn't have a definite end condition. But writing? You can say you'll spend only 30 minutes drafting an aimed-for 600 word post, but the reality is that you'll keep writing until you reach the end, whether or not you stayed in the timebox.
It should have been obvious from the beginning that I have a functional process for fiction writing, but not for blogging. After starting, but not finishing, two posts** the other day, some magic combination of unfinished blog posts, funky coffee drinks, and driving a borrowed car that I've been fat-shaming***, lead to the lightbulb moment that I don't finish or revise a blog post the way I would any piece of fiction. I suspect that most other writers and artists geek out**** on this type of helpful self-revelation. So if it seems weird that I was super-excited to get home and construct a new writing process for myself… well, it's probably still weird, but I'm sure I have a kindred spirit somewhere. (Kindred spirit, if you're reading, let's be best friends and trade colored index cards and braid each other's hair if we even have long enough hair for that, which I don't.)
Here is what a working fiction-writing process looks like: make an idea-mess, tame it into a summary sentence, expand that sentence into a more useful idea-mess, then write. After that you get to revise, and revision is where you sleight-of-hand your draft so that it looks like you knew what you were doing all along. Not everyone writes that way, but I came by some of my process through the How to Think Sideways writing course (highly recommended, more so than my actual creative writing degree), so I know there are others out there. When I decided to fix my blogging process (which comes down to typing out mental narration), I turned to the How to Think Sideways lessons that had helped me so much.
But I also ended up digging into the nuts and bolts of my own writing process. And after spending a few hours pacing and scribbling diagrams, I discovered the building blocks of all written matter. And that's what Part II will be about.
---
*I've written over 2000 words per hour in the past. I just didn't enjoy them.
**One is about my recently-deceased Chevy Prizm and the other is about why the phrase "Whatever doesn't kill you makes you stronger" is a bunch of crap. I try to limit the number of rant-based posts I write, and so the latter may not see the shining light of the internet.
***My recently-deceased Chevy Prizm is smaller than a Subaru Forester, which I accuse of being a fat beast when it won't go into a parking spot the way I want.
****This is way too many footnotes for one post, let alone one paragraph, and I'm going to have to start using superscript numerals instead of asterisks that, taken in a group of four, make it appear that I have some choice words I'm not using. But, rest assured, I would use them.