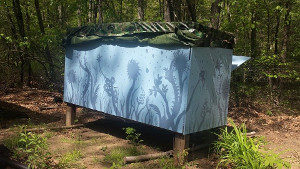 Our flufforaptors have grown into sleek, russet-feathered chickens. They aren't fully grown just yet, but it was time for them to move out to the coop. After extensive online research, I learned that moving chickens to a new home fifteen minutes away is generally a five-hour process, and you should expect to spend most of that time attempting to lure them into a cage with chive flowers and lentils because picking them up is impossible.
Oh wait, that's just what we did.
But first, I spent some time earlier this week tricking out their coop.
Initially, we painted the coop a light blue color that I'm told is "colonial blue," whatever that means. It came from a one-gallon can of Home Depot Oops Paint—the paint that is returned to the store, and then has extra pigment added so that no one can run an awesome Home Depot Oops Paint Scam with their friends.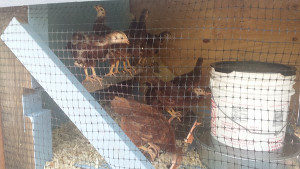 Anyway, I painted weeds on the sides, just in case anyone didn't know that my partner and I (any my mother-in-law, whose house the coop is at) are all kind of hippies. I based the design on a typeface called Aierbazzi, which has drawings of meadow weeds instead of letters. The drawings stack together so that a word becomes a single clump of weeds rather than one letter-drawing after another, all in a row.
To get the color, which I wanted to look like shadows on the side of the coop, I mixed black paint in with the coop's base color. We're all happy with how it came out, but the chickens don't care. They're basically just happy that their new home has plenty of interesting structures to fly on.
As it turned out, I gained some skills at picking up chickens. My partner and I were so pathetic at getting them out of their box that we actually googled "how to move chickens," followed quickly by "how to pick up chickens," because we needed less advanced information. Then, after one of our failed efforts to lure them into the cages with flowers (yes, exactly like a five year-old might do), one them them escaped.
Quickly and firmly, as this blog suggests, I scooped her up and yelled, "Grab a box!"
Dan freaked out, and we had what was probably a really stupid dialogue:
"What do you mean? What box?"
"A box. Like a box. Cardboard!"
"What box? What box?"
"A box! A box! A box with flaps."
In the end, that was how we moved them all to their new home. The first few times I tried to grab the other chickens, they freaked out in a crazy flurry of flapping wings and scattered pine shavings. That made me freak out, and I'd let the chickens get away. But I kept telling myself, "quickly and firmly."
Don't let their freakout become your freakout. That's the other thing I learned. It's probably a good strategy for dealing with people too. Thanks, flufforaptors.