Baby chickens turned out to be fascinating, and I didn't expect that.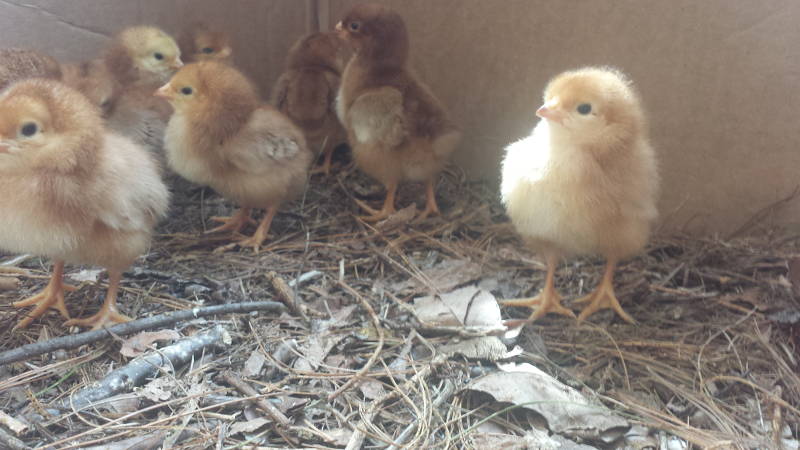 Despite being on board with keeping chickens as part of a healthier, more sustainable lifestyle, I've always kind of viewed chickens as fairly dull farm animals. To be fair, I had spent very little time around flesh-and-blood chickens. That just changed. My partner and I have had baby chickens for nearly a week. We've spent much of this time suffering from something called Chicken Hypnosis, because that's what we named it. Chicken hypnosis occurs when you try to do a thing, but are unable to because you walk by the chicken box and end up staring at their antics for twenty minutes.
After five days of Acute Recurrent Chicken Hypnosis, we've learned a few things about baby chickens.
Baby chickens are baby dinosaurs.
The idea that chickens are descended from dinosaurs is something I've heard people talk about a lot the last few years. Within a few hours of having chickens and watching how they move and function, my partner and I agreed. They are totally dinosaurs. He nicknamed them Fluffosauruses, because they are indeed adorable, fluffy, vicious little monsters. I like Flufforaptors, because they do kind of move like velociraptors.
Of course, this is all kind of dubious. We can watch the chickens and say that they move how dinosaurs move, but our idea of how dinosaurs move comes from Jurassic Park and various documentaries. And for all I know, they based their ideas on how dinosaurs move on the movements of living birds.
Baby chickens are fast.
Back to that velociraptor comparison. For some reason, I imagined that baby chicks would bounce around like fluffy little anime monsters. Maybe I didn't actually know what chickens were before we got them. I didn't even realize that I'd imagined them moving this way until I saw them dashing across their living area, tearing up the mulch behind them with their little talons. Once their wings started coming in, they began to use them for extra bursts of speed. Which is so cool to watch.
Baby chickens do not give a shit that you named them.
Or at least that you named the three of them you can tell apart from the others. Maybe when they're older, they'll learn what their names are. Human babies take awhile to learn their names, after all. But I also think that chickens just don't give a shit. You named us Suntop, Redbeak, and Chickotay*? That's beneath us. We're the scions of dinosaurkind, and we'd basically eat you if you weren't three hundred times our size. Or something. We're chickens. Counting isn't our forte.
Baby chickens are a mosh pit.
The chickens sleep in a clump, something I'm told they'll do until they're older and learn to roost. At various times during the day, they nestle into clump formation and take what I can only assume are power naps. Other times, they'll bundle together and just kind of mill around. Then one of them will jump into the group and disrupt the whole thing, and basically, it turns into a mosh pit.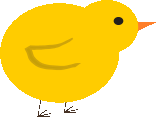 Finally, this picture does baby chickens no justice.
They may have been little balls of golden fluff for the first couple days, but they still had cold reptile eyes and pointy little talons. Like many of my favorite creatures, both real and fictional, they are both cute and vicious. Chickens in a yard tend to eat bugs. At two days old, they ate** a bunch of ants I kidnapped for them from the garden. Any sort of cartoony illustration of Easter chicks is really just a caricature. Especially if there's a bow involved.
---
*Speaking of Star Trek Voyager, chickens can live longer than Ocampa.
**Or at least brutally murdered.