In my last post, I went over some of the issues with trying to plot an entire novel in an hour, when you don't actually need to. That's kind of a niche problem to face, but I help run National Novel Writing Month events in my region of Massachusetts, and we have a planning workshop with limited time. While I think the Random Rapid Plotting exercise has its uses, I didn't want to use it for our NaNoWriMo group's Novel Planning Workshop a second year in a row.
Last year, I created a second plotting exercise. This one has been a lot more useful to me, and went over well at our group's Novel Planning Workshop. It also combines three of my favorite things: lists, index cards, and rolling dice. While it is designed to be done in an hour, to fit into the workshop, it's also a good exercise to pick up during the writing phase to generate more conflict.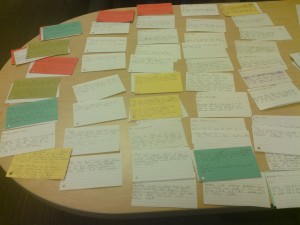 Our group's twelve-hour Coffee Crawl and Writing Marathon is tomorrow. I need all the conflict I can come up with to get through that, so I'm going through the exercise again in preparation.
The Conflict Brainstorming Exercise is exactly what it sounds like. You quickly write down lists of characters, attributes, places, and events. You brainstorm them if you don't know them already. Then you roll a die a bunch of times, and do some freewriting about potential conflicts. Some things won't stick, but it's still a handy way to find conflict from all areas.
This year, I found out that the Conflict Brainstorming Exercise is also good for finding where you have holes in your story. I'm rewriting my very first NaNoWriMo novel (from 2007!) because I know there's a story I love buried under a bunch of nonsense with a useless second protagonist who had no business being in the story. Stars Fall Out is now also the backstory of a character I've written a lot about elsewhere. That means that the world and the antagonist both changed. Trying to write those lists in three minutes showed me where I needed to do more thought work.
If you want to try your hand at the Conflict Brainstorming Exercise, download it here.