Is it appropriate to congratulate the bride if you know she doesn't want to be there? For my current draft, I needed to come up with something for a character to say in this situation. To jog my brain, I ended up googling both "things to say to a bride" and "things not to say to a bride."
And…wow.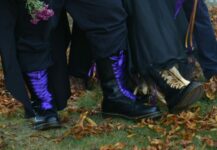 You are supposed to tell the bride how beautiful she looks because "all brides want to hear that" and because of all the work that went into starvation diets. However, this is not supposed be phrased as "You did such a beautiful job starving yourself!"
You're not supposed to tell the bride that you hate weddings, but that you're enjoying hers. Even though, as far as I'm concerned, this is the highest compliment one can pay a wedding. Because weddings can be the worst.
Our wedding was a Halloween wedding, but we had a strong subtheme of "excising wedding traditions that we hate, particularly gendered ones." I would've been perfectly happy if someone told me that my wedding was the exception to their wedding hatred.
You're not supposed to compare the wedding to another wedding, such as by saying, "Julia and Mark used the same typeface on their place cards!" because the bride worked ever so hard to make the wedding unique (especially while operating on such a low number of calories).
This is the case even though there's a whole industry of wedding shit that most brides are getting their unique centerpieces from.
There are a finite number of cupcake flavors and only so many ways to turn a mason jar into a centerpiece.
---
It's been five weeks since I posted an excerpt from Stars Fall Out. A single-scene wedding I'd planned instead turned out to take up six scenes, making me feel as though I've been stalled in one spot. But in fact, I finished 13 scenes since I posted that last excerpt.
For this wedding snippet, I ended up doing the aforementioned perplexing wedding research to figure out what one might say to a bride at her wedding without congratulating her.
The research didn't help; I figured out my own answer.
In seconds, people were all around us with compliments on our attire, on the ceremony, and on our perfection as a couple. I turned from one to the next, reflexively taking hands and accepting compliments, Tirsan by my side, and then gone, pulled away by some of his many cousins.
A hand fell onto my shoulder, no different than any other, aside that it came with a single word whispered in my ear, pronounced perfectly in a more imperial voice than the one I knew.
"Tyatavar."
He came around to face me, his hand drifting off my shoulder. "The ceremony was fascinating," Pinuar said in what I knew as his regular, Tavhathan voice. "And educational."
Then he disappeared into the crowd.
---
And if you happen to be someone who's been living under an assumed name for eight months and coming to see the bride in her father's bakery, you might finally tell her your real name. And that you realize you were invited by a verbal accident, but you came anyway so that she has a single person to relax and be unhappy with.
And then you can go get yourself smacked in the face because a guy thinks you got him kicked out of his magic lab.
---