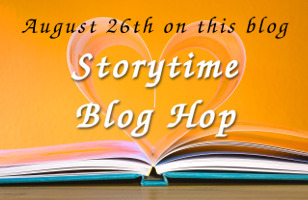 In a little over a month, on August 26th, the Storytime Blog Hop is coming.
What manner of Internet nonsense is a blog hop? I can hear you ask. Because I'm in your thoughts, thanks to the dark magic of internet cookies.
Remember the web rings of old? If not, pretend I never mentioned them. A blog hop kind of reminds me of that. Except, it's also like a pub crawl, without the irritation of leaving your house. And without the alcohol, unless you provide that yourself.
What happens is that, on August 26th, I will post a short story, along with links to stories from other writers in the blog hop. None of them will be very long; some will even be flash fiction.
All the stories will be somewhere in the genre of speculative fiction—fantasy, sci fi, horror, or any crazy cocktail of those three. We could have anything from woodsprites to lasers, clockwork dragons to genetically engineered tentacle beasts. All of the above, even.  Stories in the blog hop will be somewhere in the realm of PG-rated.  No graphic sex or violence.
My own story will be about a powerless noble in the frigid city of Yauglesk, a place where an uneasy two-hundred year occupation is beginning to falter.
So, stay tuned for that. And also for the potpourri of upcoming blog posts, about things like pudding, typefaces, artwork, and monsters.