It might not be immediately obvious what's wrong with this picture.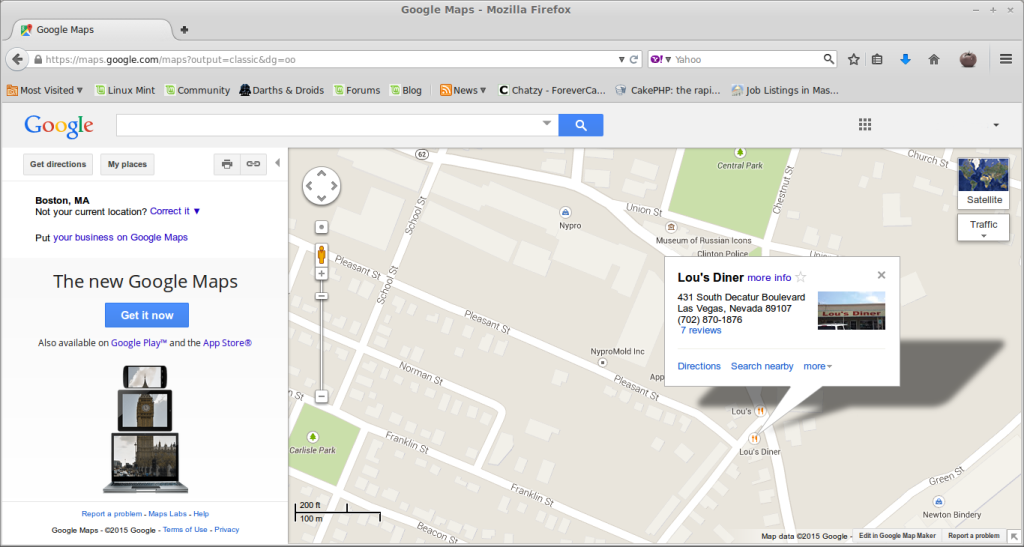 The map is a portion of Clinton, MA. Note the address of Lou's Diner.
Yeah!
At first glance, it looks like there's some kind of glitch with Google Maps that caused a diner from Las Vegas to appear to be in a town north of Worcester, MA.
But…but…but… Google is infallible, right? Google doesn't glitch. And its eventual planetary hegemony will be a good and benevolent time for the human race, won't it?
Of course! Because of this, it is seems rational to entertain the possibility that there has actually been a space-time distortion, and a diner from Nevada now exists in Massachusetts. It raises a lot of questions.
Is Nevada now actually a part of Massachusetts? Is Massachusetts now some kind of geographical bag of holding (or pseudo-science-that's-actually-magic term that means the same thing) that can contain oversized states from way out west*? How do Massachusetts gambling laws affect the State of Nevada now?
Furthermore, do I still want to stop by this place to grab a bite, knowing that the anomaly could cease and I could be snapped up and transported to Nevada, a place that I imagine as a vast desert crossed by a handful of infinite highways and a splotch of neon-lit gambling?
For someone with an extreme aversion to hot weather (like, over 70 F) and an overblown fear of snakes, the desert is easily the worst place in the world.
Would you dare enter such a diner, knowing the risks?
UPDATE: Driving through Clinton, MA the day after I wrote this post, my partner and I did not see any sign of Lou's Diner. While it's possible that we were distracted by talking about the Wachusett Reservoir, or Klingon language issues, it seems just as likely that Lou's Diner has been returned to Nevada where it belongs.
---
*I use the term "way out west" to signify the western part of the United States. This is in contrast to the Massachusetts meaning, which may indicate any part of the state west of Worcester.