Snowfall mutes the world. It dulls the machinescape that is modern life, even in a small town. It makes familiar places foreign while softening rough edges and concealing the ugly and the industrial.
Walking through the snow is at once a return home, and a journey to a new frontier. Blanketed in austere sameness, old favorite trails become the haunts of frigid spirits, repetitive mazes where it could be all too easy to become lost. In the loneliness of snowfall, you can say words aloud that you never have before, and the wind carries them between towering pines, and they are lost.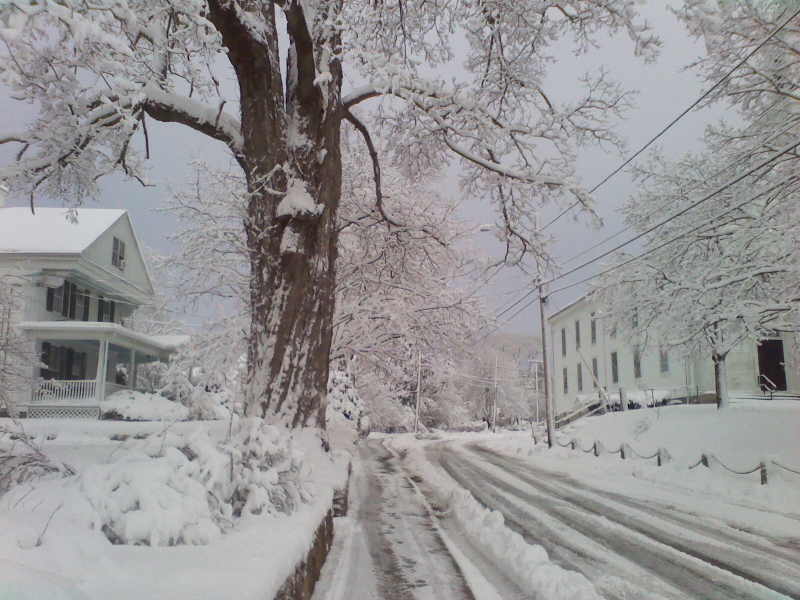 When the snow falls, I am like a spy in a foreign country. Everyone cries out against the tyranny of snow—it makes us shovel, it makes us cold, we must clear our cars, we hate it, we hate it—but I am at home under the rule of snow. When the foreigners around me decry the snow, call for its execution under the rays of the spring sun, I halfheartedly raise a fist. "Grrr… snow. Yeah, down with snow. Or something. I guess."
Unless I'm in the mood for a conversation. Unless I have the energy for a conversation.
* * *
Would you like to join a secret club? There aren't many of us. No matter the differences in age or opinions or any trait you can think of, we are bonded by a love of the cold. There is an instant kinship between those of us who come alive when the world is frozen; when everyone else complains about roads and gloomy skies, the two people who say, "I like the cold," and "same here," know that they are kindred spirits. And they can laugh about how people are always telling them to put a jacket on.
* * *
Frozen didn't convey the same sense of wintery-ness that I felt reading The Snow Queen as a kid. But it was a good piece of pro-snow propaganda, and I liked the parts where no one wore jackets when they probably should have. I got through one July reading A Dance With Dragons by George R. R. Martin and fervently telling myself, "Winter is coming. Winter is coming. Winter is coming." And then it kind of didn't.
* * *
Anyway, it's in the mid to high seventies outside now, and that's about all I can take.