The internet failed me.
This was back in the Fall of 2013.  I co-organize events for my local NaNoWriMo region, and our group often hands out mini-mascots at our events, things like toy ninjas, army men, and pom-pom bunnies.  That year, I wanted it to be paper robots.  I didn't think I'd have any trouble finding instructions for such a thing on the internet, but nothing came close to what I had in mind.  Everything was either too flimsy, too labor-intensive, or kind of ugly.  Or, all three.
While these appear to be the most awesome paper robots on the internet, making twenty of them was out of the question.
What I wanted was a cute paper robot that could survive a knock from a gift bag granola bar, one that would take me less than an hour to make.  Somewhere in the back of my mind, I'm sure I was visualizing the little robot from Machinarium.
So, because the internet failed me, I devised my own means of creating a paper robot.  I went through a couple prototypes, then got what I wanted on the third try.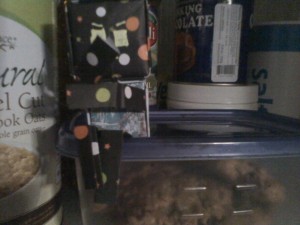 Cookiebot has an electroshock arm that extents from his body and zaps anyone who tries to steal the cookies*.  Including me, and they're my cookies.  It's kind of like in Super Ducktales when Bulldozertron or whatever it's called guards Scrooge's money bin, and no one can get into the money bin until Gizmoduck defeats him.  Only, I don't have a Gizmoduck in my life, unless you count throwing Cookiebot on the floor and stepping on him.  But I wouldn't do that, because he'd probably crawl away in a squashed bundle of spider limbs and have his revenge while I sleep.
Which is all to say, I made a pdf guide explaining how to make the robot.  It's light on pictures, so I hope the text suffices.  The robot takes about 30 minutes.
You, too, can have a Cookiebot in your life.
---
*Not really.  If I knew how to make something like that out of paper, I would be leading a very different life.