Censorship breeds amusing substitutes for the common profanities we all know and love. While "fuckity fuck fuck fuck" is absolutely a phrase I over-use, I have a special place in my heart for the fill-in profanities that crop up in the TV versions of movies and in a lot of social situations involving self-censorship.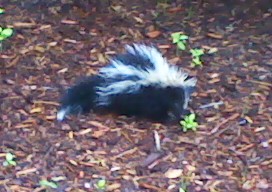 Though I didn't know it at the time, my first exposure to swear substitutes was "shoot the boot!" I've heard stories about parents who swear in front of their kids, and are later embarrassed when the kid swears in public. I don't understand why it's embarrassing if the word isn't being grievously misused, but whatever. This never happened to my parents, because they have an inhuman ability not to swear. Between the two of them, I've heard swearing maybe three times ever, and those were all from my dad. When I was little, my mom frequently used the phrase "shoot the boot," always said in a jaunty, rhythmic manner, like it was the title of a Dr. Seuss book.
This kind of fake swearing, along with cheery, defanged expletives like "Aw, heck" and "Oh, fudge" left me unimpressed with phony curses for a long time. When I became a teenager and came into my own as a vulgar human being, entitled to the full range of hard, monosyllabic curses the English language has to offer, I eschewed the knock-offs every single time I could get away with it.  And, this article argues that I was right to do so.
Until a few years ago, I saw the stand-ins as imposters. Mock swears were like a guy with a false beard conspicously saying, "No, I'm definitely not the same dude you gave the one-per-person free ice cream to a moment ago." They're adorably trying to be the real thing. Hearing "go fork yourself" on TV movies amused me, but it was more like a kitten playing with yarn than a Siberian tiger shredding a tapestry and roaring.
I've come to appreciate the fakies for their creativity.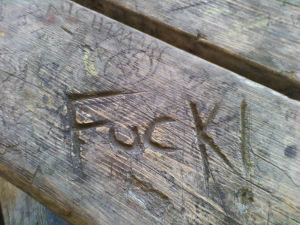 Recently, my grandma was telling me that if she misbehaved when she was young, her mother would come after her yelling, "I'll give you Hail Columbia."  My great-grandma didn't come up with it herself, but wherever it came from, it's still a lot more creative than "heck." Actually, can we reappropriate "heck?" It doesn't have to be wimpy.  Let's say that it's a combination of "hell" and "fuck."
Anyway.
Think of how many other possibilities there could be.  "I'll give you hailstones." Actually, I'm blanking. I can't think of any more possibilities.  "Hail" is lodged in my head.  But a number of words begin with H, no? To use George Carlin's number, there are, what, seven good swear words? But there are a million words in the English language. What if, somehow, they could all be used as profanities?
Options!
I mean that as a swear, like a joyful "fuck yeah!" Nope, doesn't work. But I'd bet that a large chunk of Anglo-Saxon derived words do.
From the way my grandma told it, she definitely didn't associate "I'll give you Hail Columbia" with wimpiness, and she didn't think of it as a frail imitator. When she was in trouble for Whatever Shit She Pulled (my words, not hers), my great-grandma made sure her wrath was clear, no matter what the wording.
And that's another reason I've grown warmer towards the substitutes. It's not just the creativity. Said with enough vehemence, anything can be an invective.
Nerds!  Oh snap!
Recently, I heard someone say, "Shut the front door."
Say it with the rhythm of "Shut the fuck up." Satisfying, right?
Only a hammer is a hammer. But if you're in a pinch, you can use a rock as a hammer. You can use a steel water bottle as a hammer. And you can use a "hammer!" as a "dammit!"
---
P. S. The Terribleminds Profanity Generator is a fantastic resource for long-form creative swearing.