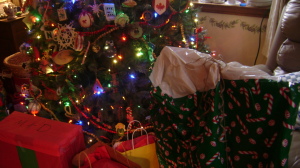 Over the past month and a half, three separate people have told me that Christmas is on Friday this year. Two of them even talked to me at length about the benefits of a Friday Christmas, namely a weekend off instead of a miserable return to work, and plenty of luxuriating in gluttony and presents.
Naturally, I was excited. I don't get vacation days, and I've had to go in to work on December 26th every year since 2011. And that really put a damper on Christmas itself, by essentially turning it into a Sunday, the most off-putting off all the weekend days.
You know this is going to end badly, right?
I spent a month in a glorious state of an assumed Friday Christmas. In my daydream, I would awaken and spoil my appetite for breakfast by munching on stocking candy, stay in my pajamas until 1pm, and spend most of the day playing with my new Legos (someone get me Legos, ok?).
A couple days ago, I mentioned to my boss that the December schedule he printed was wrong, because Christmas was on a Friday this year.
Finally, I checked a calendar for myself.
Yeah.
Guess I'll have fun playing with my Legos on some crappy day like December 27th, if I even receive Legos on a Thursday Christmas.
There is a moral to this story, if it can even be called a story. Maybe it's more of a grievance, or perhaps a saga. Actually, there are two morals.
One: spreading rumors and lies can hurt people. More than anything that ever happened to you in high school, more than any shit anyone ever posted about you on Livejournal, this story/grievance/saga really illustrates that.
Two: If you don't trust other people's medical advice without doing your own research, don't trust them to tell you when Christmas is. No one would assume that three separate people would be wrong about something so non-contentious and easily verified, but apparently it does happen.
And a third moral: think very hard before you purchase your name as a domain name. Do you think that your own father is the type of person who woud lie to you about Christmas? And that, if he did, you would want to legally change your name and cut all ties because you can't decide what hurts more: the Christmas misinformation, or the lies.
---
Note 1: Did you know that Black Friday is now an entire season? Black Friday deals starting in late October? I feel like I don't even need to rant about that. It speaks for itself.
Note 2: I'm turning thirty in six months, which you would probably not guess from basically any aspect of this post.