If I were a car person, maybe it wouldn't have been such a shock when my reliable Chevy Prizm died. Not died in the sense of "needs a jump," but died in the sense of "funereal bouquets and little catered sandwiches." A car is a tool, in the broad sense of the word, and since I live in the country, it's a necessity. A means to an end. It's a mass-produced machine, not a work of art, and many identical cars are still on the road.
And yet, the moment that large, expensive machine stops working evokes all kinds of weirdly sentimental feelings. Even for someone like me.
The Chevy Prizm was in truth a Toyota Corolla sold under the Chevy name. My car had a couple Chevy logos slapped on the outside, but like a contrived TV show situation with a masquerade ball and mistaken identities, it wasn't fooling anyone. Are we supposed to believe that the characters legitimately can't recognize each other because they're wearing slim, sequined carnival masks (I'm looking at you, Gossip Girl)? As if they don't have recognizable chins, noses, body types, or that black trim running along their doors? "LOOK, I HAVE A GREAT DISGUISE. NO ONE WILL KNOW I'M A COROLLA, HAHA." My first Prizm even said "Toyota" on the cassette player.
The characteristics of a car map conveniently to one's own personality. Our stuff forms our identities more than people would like to admit. More than I would like, anyway. My Toyota Corolla definitely a Chevy Prizm was the car of a practical person who doesn't give a shit about brand names, and sat in the same category as my cell phone and my old laptop: things I always said I would keep until they broke (which I did), rather than getting new ones just for the hell of it. In my car, you could see my personality and my socio-economic status.
You could also see a large dent in the side where I accidentally threw a log at my car because there was a snake one time.
Over many, many hours of life, my view of the world was literally framed by the shape of my car's windshield. I'm not going to go into depth on that, because that's verging into post-modern territory, and Here be Dragons and Opening a Can of Worms*. Still, there's some subtle effect.
The nine years with my Prizm feel like eleven; my first car was also a Prizm, and met it's fate after some awesome teenagers (So full of life! So awful at making left turns onto a busy road!) barrelled into me. The insurance money allowed me to upgrade to a second, slightly better Chevy Prizm (CD player! 4-speed transmission!). As long as I'd had a car, I'd had a Chevy Prizm.
Nearly every adventure my partner and I went on over the course of eleven years started the same way: fresh cups of iced coffee, a new mix CD or tape, and time spent packing everything into the Prizm. We went places in the Prizm that car advertising will tell you are reserved for owners of Subarus and SUVs.
The Prizm saw me through different phases of my life, from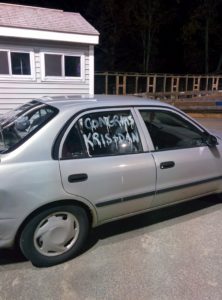 commuting to school to working second shift and living in my first apartment. I drove it to Boston's green line twice a week to take a copyediting class at Emerson College, which was probably the first active decision I have made in my life. I spent the first few car rides trying to breathe and listening to music while my anxiety and dread over the claustrophobic subway tunnels revved inside me.
I've eaten meals (and "meals") in my car and taken naps. I've driven to dreaded doctors appointments and job interviews, and spent extra minutes in the car "just to finish this song," even though I had it on CD. I've screamed angry depression screams in the car as I drove so no one else would hear me.
Mechanics always told me, "That car'll rust out from under you before the engine dies!"
Well, the engine died.
When the mechanic told me, I made one last mix CD to play in my Prizm, which I had been told might last a few more weeks, or might die on the way home.
Like someone watching a story of their life, I actually did cry on that last ride, with that last mix CD, as I told myself in a self-consciously narrative sort of voice that I knew my old, reliable Prizm would get me home one last time.
I wasn't wrong.
For two-and-a-half years now, I've driven a green Corolla. It's practically the same car, only cleaner**. Once again, it's easy to forget that I ever had another car. My grieving process for my old car only lasted so long; I may have been attached to the Prizm, but not install-human-brain-in-the-engine-so-it-will-keep-on-living attached.
Sometimes I see the Prizm in pictures from long ago adventures, or from my wedding, or am reminded of it when a friend loses a long-term car. And because this is all more emotional than losing a mass-produced vehicle which I owned solely for practical purposes should ever be, it's like seeing pictures of a fun cousin that I haven't seen in a long, long time.
---
*And the dragons would just fry the worms into crispy fried-onion-like topping, probably. Green bean casserole? Hell yeah.
**While my Prizm was famously a huge mess, my Corolla won a bet for its cleanliness: