It's now July 4th, and despite my Mr. Freeze-level hatred of warm weather, I haven't been having such a bad time. I'm not even dreading the rest of July too much. This is partly thanks to the Index-Card-a-Day Challenge at Daisy Yellow, which I have participated in for the last two years.
Index-Card-a-Day is a challenge which involves making some kind of art on an index card every day in June and July. It's not about making fantastic artwork (although that can absolutely happen), but rather about having a small, cheap canvas on which to do *something.* Daisy Yellow explains this in more detail, and with better pictures.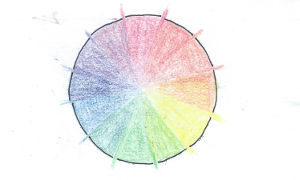 Last year, I used ICAD as an opportunity to learn more about color theory. As a writer, I no longer have favorite words. They all have their uses. You can't just use the word "defenestrate" because it's your favorite when you're writing about something it has nothing to do with, like coffee. Or your family. When I used to make art, I would mostly use black and grey, blue and purple, seeing as they are my favorites. Now I know how to make something yellow and brown, if what I'm trying to express has nothing to do with black and grey, blue and purple. Last year, ICAD was a great, low pressure way to learn more about color hands-on. So on a given day my assignment might be to "make something orange!" but other than that, I did anything I wanted.
I also learned how to make nice mini-collages from magazine pages that I clandestinely ripped out at work. At a cookout* I went to around this time, a guy I remembered from high school as being both really nice and having an enviable biking-places-doing-art-wearing-hoodies lifestyle confirmed what I had begun to suspect: the secret to a good collage is not to think, to go by instinct, to quash any impulse towards lining things up and adjusting the everloving fuck out of cut-out lampshades and bulldogs.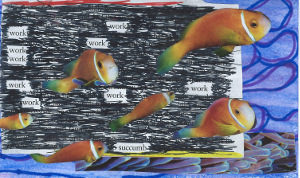 So this year, I have been doing the ICAD challenge again. June was a crappy month, and I didn't do as much with ICAD as I wanted. Since I've been working on my drawing this year, I may end up using the rest of ICAD to further that learning. Soon I will probably post the index cards I have made so far on my flickr. National Novel Writing Month has always been a time for me to dedicate to writing, no matter if I've had a poor writing year. Now I have the Index-Card-a-Day challenge to fill the same function for my art. Instead of being the classic security guard with the magazine, when the building emptied for the night, I was the security guard with the gluestick. And as someone who is prone to depression, participating in ICAD is a great way to make myself feel better during a time of year when I tend to stay indoors and get less sunlight. Yes, I have Reverse Seasonal Affective Disorder. Clinically, I don't know if that's a thing, but I'm sure I've got it. So yeah, treating RSAD with ICAD.
This month is not only the 2nd half of ICAD, but also Camp NaNoWriMo. So my big dilemma for the moment, after I finish this post, is whether I should go draw something, go write something, or put off both and get some more coffee.
---
*where cookout is short hand for night time outdoor gathering with a big ass fire, and liquor.