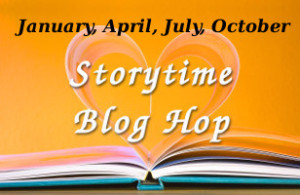 The Storytime Blog Hop is back, and now slated to be a quarterly event taking place in January, April, July, and October. If you missed the blog hop back in August, definitely check it out. We had a great mix of stories. I found out about this January's blog hop just in time to finish a story I had lying around. You can read it below, then follow the links at the bottom to check out the other participant's stories. All stories are speculative fiction (fantasy, sci fi, horror, or any blend of those three) and all are somewhere in the range of PG-rated: no graphic sex or violence
Smithereens
A story by Kris Bowser
"That was the last time I tell someone my daughter was carried off by rockbats," Hintasa announced to the darkened alcove. The latest noble seeking aid from Her Ladyship the Geomancer had barely left, and the thud of the closing door echoed through the stone hall.
Skiomeir stepped out and stared through her with graphite eyes. He had been a shadow's width out of sight the entire time. Too close. "You said they need the lie."
"It's an embarrassment."
"Only to you. The rest are terrified of the rockbats. Shall we invent another commoner to have been carried off?"
Hintasa crossed her arms and stood rooted in place. Unyielding as stone, she thought, then chased the thought away as a ridiculous bit of irony.
"I'll do it this time. I never would have thought I'd have the imagination for it, but it's been enjoyable. Let's see… Ataminosz, age thirty-four, came with that caravan. His brother found cover in time and saw the whole thing." As always, his speech tripped along lightly, water over brook-bottom pebbles.
Hintasa narrowed her eyes. A mother, a monarch, a shaper of stones, she had honed a gaze of disapproval to move a granite cliff face to contrition. "You're the one who took her from me." Anger heated her chest.
"Never mind. I should leave the fictions to you. Amazing natural talent. But you know this can't last."
Below Hintasa's clenched, shaking fists, the stone floor had risen up into two stalagmites. "I'm too young for this," she muttered.
A knock resounded through the hall, and Skiomeir leapt to the side of the throne. As Hintasa turned to face the entry, stone cracked from behind her. One of the guards strode in, her eyes flicking to the twin stalagmites. "My apologies, Lady Geomancer, if my interruption angered you."
She sighed and held her palms level above the floor. The stalagmites calmed back into flooring as she steadied her breath. "Now, what is it?"
"Lady Otanivar requests an audience."
Hintasa had only seconds to glare at the spot where Skiomeir had stood, and then to calm her face as she had calmed the stone, before Lady Otanivar walked in with an air of bureaucratic righteousness bolstered by requests and concerns and dull ideas for committees to contend with the scourge of the rockbats. Every time such a meeting occurred, Hintasa toyed with the idea of blurting out the truth, but always her mouth remained clamped.
Assured that her land would be protected, Lady Otanivar lay a hand on Hintasa's arm. "And how are you doing?"
The answer came automatically. "My daughter was carried off by rockbats."
"Yes, but how are you?"
"Busy. You'll have to excuse me."
As soon as the guard escorted Lady Otanivar out, Hintasa turned back to the throne, to the lurking statue that had not existed before. "Now she's going to notice next time when there isn't a statue in that spot."
The statue flowed back into life and color, and it was Skiomeir who stepped toward her. "You'd be amazed, the things I've found out as a statue."
"Only because you can't read," Hintasa snapped.
"Do you know how fitting everyone thought it was, when the Lord of Spire took a geomancer for his wife? What lady could be better to preside over barren mountains and used-up mines? Only someone who sees life in the stone itself could see it in this land."
"Are you as prone to speeches when you're a statue? I think you matched the hall after all."
"Sarcasm? I am stone. But I finally figured out why I am. Out of your loneliness, you thought to create a new companion for yourself. Your husband was gone, but you see life in the stone."
She nodded admittance, because she would say nothing out loud. If he would only leave. The day's business was far from over.
"I think if you wanted to love me, you shouldn't have made me from the things you hated, that you happened to have on hand: the flagstones that didn't sit quite right, the statue of the general on the second floor landing. The smithereens that fell from the ceiling when a storm hit the Old West Tower. And I think you have no right to be angry that someone else could love me."
***
Hintasa kneaded the rock arms of the throne while the midwife took care of things. Let her deal with the element of flesh, and Hintasa would stick to the stones.
It was Skiomeir who brought out the tiny bundle of blankets. "Here. Your grandson. Poetic, we thought, that this is the grandson of the Lord of Spire."
Graphite eyes blinked sleepily, unaware of the nine months of rockbat casualties that had been invented to conceal his entry into the world.
"I had an idea for pair of Suong gypsies, another caravan. But you can't keep it up for the rest of his life."
Hintasa stroked his tiny forehead. "You had better hope he doesn't look like the Old West Tower when he grows up."
***
As the midwife prepared to leave, Hintasa pulled her out into a corridor. "I want to thank you for helping my daughter through this. You know she's had a tough time of it these last few months."
"Yes, I had heard—"
"She was carried off by rockbats. In her condition. Eventually, I went to the mountains myself and fought them off." Hintasa paced the corridor, and a stone punched out of the wall as she made a triumphant fist. "There's no need to worry about the rockbats anymore. You can tell that to anyone who asks."
---
And now check out the other stories!
Justine Ohlrich Two Deaths on My Birthday
Rabia Gale House Bound
Juneta Key Consequence
Mel Corbett If It's Not Yours
Elizabeth McCleary Untitled
Katharina Gerlach Scars
Karen Lynn My Story
Angela Woodridge Uninvited Guests
Barbara Lund New Space
Kris Bowser Smithereens