There's been a glaring omission on my part. Though, it's not so much glaring as it is a one thousand dollar fireworks display that some guy sets off in his yard at midnight. The omission is a book, one that I'm revising and trying my hardest to publish this fall. I've mentioned to it, and alluded to it, and even wrote the blog post "Halloween Profanity—for Children!" about a process I've been using in the revision.
I announced it on my mailing list. But I didn't announce it here, on my blog, as one is supposed to do in this situation.
Pumpkin Goblins is a middle grade chapter book in which a Halloween-deprived child and a squad of pumpkin goblins work to generate Halloween spirit when a mysterious source of summer magic threatens to destroy Halloween for good.
Check out the Pumpkin Goblins page for the full summary.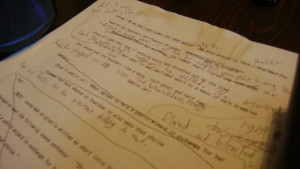 I'll be honest. It feels nice to say, "Coming Fall 2015," but the fact is that I set my deadline for September 20th, and "Coming Fall 2015" is a cheery way to obscure my deadline. September 20th may be slipping out of my grasp. I'm worried that Fall 2015 could slip away as well. But I'm trying. I've cut some bad habits as I work to find the remaining revision time I need. Even better, my TV actually broke.
Unfortunately, I can't quite kick the habit of "having a full time job." I'll be cutting my hours in September and October so I can take a course. That'll net me some Pumpkin Goblins time as well.
Despite all that, I'm ridiculously happy with how the revision is coming along. Every aspect of the story is becoming a story I want to read myself. It's funnier, scarier, and more goblinish, with stronger characters and better descriptions.
Every now and then, I mention my writing to people. They often say something like, "So, you enjoy writing, huh?" And sometimes, when this happens, it's a frustrating writing day and I'm irritated with a draft. I'll shrug and say, "Yeah, I guess," because at that moment, I can't muster the enthusiasm.
I think if anyone ever asked, "So, you like revision huh?" my answer would be more excitement than they want to deal with. Like the fireworks of my glaring omission. And that's how I feel about the Pumpkin Goblins revision: fireworks and excitement, fall leaves and that chill in the wind that makes you feel alive.
Here's an excerpt of some dialogue I like:
"What's your name?" asked the first goblin.
"Amber."
"Ember?"
"We like embers," said another.
"Because we like fires," said the third, all of them talking so fast that Amber could hardly tell which one was speaking.
"No, Amber. Like dead bugs that were fossilized a million years ago."
"Oh."
"Amber."
"Like dead bugs."
"That's a lovely name for a girl."
The really cool part is that a friend of mine is doing some illustrations for the cover and the chapter headers.  I've improved my drawing a lot in the past few years, and the process no longer seems mystical to me.  But I still can't do figures well, and I'm always impressed by his characters.  They have an awesome cartoon style, and they really look like they're moving around on the page.  I'll definitely post some sketches if he lets me.