Caterpillars are fascinating in the singular, disgusting and devastating in the plural. I don't believe it was technically a record year for the number of gypsy moth caterpillars, but they ate enough leaves to transform large areas of Southern New England into leafless wasteland. Driving through some of those areas, I began to think, "An actual apocalypse could start out looking like this."
We're in the final days of The Caterpocalypse*. The caterpillars are basically all gone now, but their effects remain.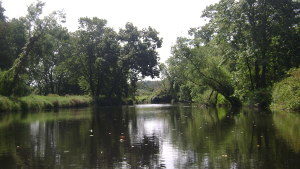 Comparing those bare trees to an apocalypse was kind of a dramatic thought. But then, it was a dramatic sight. During the weeks that this happened, I wasn't online much, didn't have many hours at either of my jobs, and didn't really leave home a lot either. I hadn't seen any news of the caterpillars at all. I was basically a writer-hermit, and it was a shock when I went to visit my parents and saw thick shag carpets of gypsy moth caterpillars trying to climb past barriers of cardboard and duct tape.
It started with the noise: the sound of rain falling when there was no rain. My brother informed me that this was the sound of caterpillar crap falling from the trees. I didn't totally believe him; in my head, I filed what he had said in the same space as urban legends. And yet, every time I heard that noise, I couldn't shake what he'd said. It kind of made sense, and well, my car was covered with little black dots that had to have come from somewhere.
The annoying and disgusting aspects of all this presented themselves first: caterpillar droppings, difficulty eating outdoors, lack of shade from the hot sun, rashes from the caterpillars. I cheered on my chickens as they cleared the caterpillars from the area surrounding their coop. They ate so many that they got tired of them. But the possible consequences of the situation occurred to me soon after. What if the leaves didn't grow back?
The trees would die.
I told myself that it's probably unlikely that we'd have a legitimate ecological apocalypse. But then, things like that do happen. My line of thinking basically boiled down to, "It can't happen here." But of course, it could.
Right now, I'm reading The Tipping Point by Malcolm Gladwell. His discussion of social epidemics starts with a discussion of actual disease epidemics. What's scary is that not a lot has to change for an existing disease to expand massively into an epidemic. I know caterpillars aren't the same as diseases. There's an entire ecology affecting their population. But maybe just some tiny change, in some coming year, would be enough to tip caterpillar leaf consumption from large areas of leaf cover to all the leaf cover. This year, a dry winter was apparently enough to inhibit the growth of a fungus that balances the caterpillar population.
"Will the leaves grow back?" I asked my uncle, a gardener and former biology teacher, and therefore An Authority on the Subject.
They would, he said, but it didn't shake the unique sense of unease that comes from walking under winter branches on a 90 degree day.
We're in the final days of the Caterpocalypse. Sometimes, I drive through the bare areas and I see the spring leaves starting to pop in. It's not as disorienting as bare branches, though it is definitely strange, and I assume there will be other consequences of this.
There are a lot of moths out.
---
*The main thing that inspired me to write this post was the fact that I hadn't seen any news articles use the term "caterpocalypse," which seemed like kind of a waste. It's much less of a stretch than "snowmageddon" was, though it could look as though it's referring to a tragedy involving a catered event.