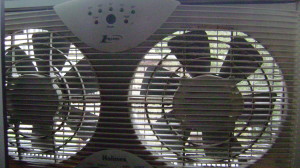 I wrote this post earlier in the summer, but held it back because August was so cool. But now that it's September and summer has returned to toy with us some more, I have decided to call it out on some of the things it's done. Here is a melodramatic list of things that melt in summer and ruin my life.
Coconut oil deodorant, because I am a hippie. My deodorant is made of cornstarch, baking soda, and coconut oil, a substance which melts at 76 degrees and then needs to be stirred.
Shoes, when placed in close proximity to a summer campfire. Before the invention of vulcanized rubber, sneakers melted on hot days. We've come a long way, but fire still beats sneaker.
Skin, from my thigh, when backed into a summer grilling apparatus.
Chocolate, when left in my car, a thing which is fine to do at sane times of the year.
Ice, from my iced coffee. Even if I made it strong (and you can bet I did) it will devolve to an unacceptable level of wateriness before I am through drinking it.
Ice cream. Eating ice cream could easily have gone in the post about summer activities that are better in winter. You mean I have 30 seconds to eat this before it's just milk and corn syrup? It's like defusing a bomb.
Crayons, when left in the car. Sure, they look cool all blended together, but sometimes I want to draw things that don't look like an acid trip, and I can't do that with 64 colors which have digivolved into MegaCrayonmon.
This should be the penultimate post of Humidfest 2014.  Maybe I'll write some more if the heat continues into September, but at that point I think I'd need to change the name to GlobalWarmingFest.
Here's a recap of the earlier posts in the series: